Check out the following resources developed for teachers!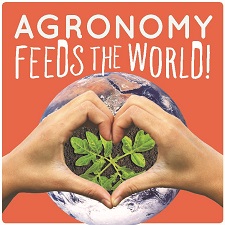 Agronomy Feeds the World- Check out these modules from ASA to use in the classroom! A special thanks goes out to PlantingScience for developing these materials for ASA.
Agronomy Grow With It! Lesson Plans - A full activity packet has been designed specifically for this site for educators with lessons and hands-on activities related to agronomy and agriculture.
Agronomy @ Work - Watch these videos to learn what agronomists do!  Agronomists are plant and soil scientists who develop innovative farm practices and technologies to boost crop yields, control pests, and protect the environment.  Agronomists work with farmers, companies, and others in the agriculture community to implement the latest methods and tools for growing crops profitably and sustainably. 
Celery Activity - Use this activity guide to conduct an experiment and observe the location of xylem tissue within the stalk of celery. Expand the concept to discuss nutrient and water movement in a variety of plants!
Circles of the Earth Activity - Circles of the Earth bracelets provide a unique lesson for younger students to learn about life interactions on our planet. Inexpensive materials can be purchased at most craft stores.
Agronomy 4 Me- Printable Catcher - Students can learn fun facts about agronomy while creating and playing with this "cootie catcher".
Biofuels Overview – Want to learn more about biofuels?  This overview, developed by the Soil Science Society of America in 2010, provides information on just what biofuels are.
Helpful Links
While the following sites are not officially endorsed (with the exception of the Soils4Teachers site), they have a variety of materials and activities at different grade levels. 
Soils4Teachers.org - The Soil Science Society of America has developed this K-12 educator's website and features lessons/activities, resources, definitions, links and a matrix of seven subject-matter areas categorized by grades K-4, 5-8, and 9-12 and vetted by soil scientists.
The Science of Farming - "In the middle of Wisconsin's lush farmland, there is an experiment going on. Two hundred quarter-acre plots are neatly laid out, separated by grassy lanes. Poplar saplings grow in one plot. Corn in another. A patch of miscanthus grass, taller than a person, stands between a plot of switchgrass and a patch of 'weeds.' What is going on here?" In this story, students follow the investigations of GLBRC agronomists, who design large-scale biofuel crop experiments on farms. Students learn about the unique challenges and interesting discoveries that come from conducting experiments in the field.
Fields of Fuel Computer Game - In this game, players—both students and the public—take on the role of farmers working to sustainably grow crops to produce energy resources, earn income and improve ecosystem services.  View this video to learn more about how using a video game (like Fields of Fuel) to support reasoning about sustainability.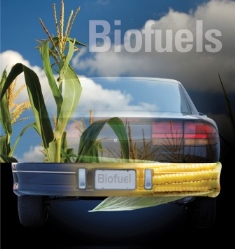 Earth's Interconnected Systems: Nitrogen – For the high-school level, this activity uses a qualitative nitrate test to observe results of some conversions and transformations in the nitrogen cycle.  This activity was developed by the Soil Science Society of America for the 2014 AGI Earth Science Week Kit.
The Great Plant Escape – University of Illinois Extension - Each of the lessons in this program is interdisciplinary, designed to introduce students to plant science and increase their understanding of how foods grow.  A teacher's guide is also available.
My American Farm - Fun online games for K-5 – for both the classroom and families.  Brought to you by the American Farm Bureau Foundation for Agriculture.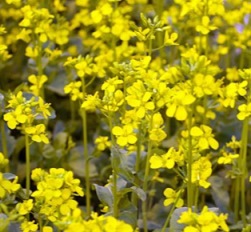 Wisconsin Fast Plants – Wisconsin Fast Plants are unique flowering plants developed at the UW-Madison through selective breeding that began over 30 years ago. Fast Plants are bred to grow from seed to flower in just 14 days and complete their entire life cycle in approximately 40 days.  Additional educator resources and classroom activities are also available.
Nutrients for Life – Modules are available for elementary, middle and high school classrooms and provide STEM activities and lessons to show how the challenge of feeding our world's growing population can be solved with science.
This Business Called Agriculture – The Wisconsin Ag in the Classroom program has many resources available for teachers – some Wisconsin specific and some for use in any classroom! 
"Bringing Biotechnology to Life" is a resource for science educators and others interested in learning more about biotechnology and its role in food production. This unit of instruction addresses national learning standards for 7th – 10th grade, yet the interest level may be much broader. 
Purple Plow is a special project brought to you by the American Farm Bureau Foundation for Agriculture (AFBFA).  The challenge encourages students to research scenarios related to food, hunger and sustainability and build their own prototypes to solve the defined problem. Resources provided for facilitators, students and volunteers are written by teachers, aligned to national learning standards and reviewed by industry experts.
FoodSpan is a free, downloadable high school curriculum from John Hopkins Center for a Livable Future. It highlights critical issues in the food system and empowers students to be food citizens. It is aligned to national education standards in science, social studies, health, and family and consumer sciences. 
Science of Agriculture - Short animations, interactives, and videos teach math and science concepts crucial to the study of agriculture. Provided by New Mexico State University Learning Games Lab.
Seed Germination Demonstration and Plant Biology Discussion - This interactive experiment will guide students to analyze what is necessary for seeds to germinate!
Grow your own fruit/vegetables in a school garden...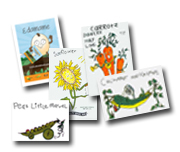 We have seeds available for you!  Just contact us at membership@sciencesocieties.org with your name and address and the number of packets you would like. Don't worry, we don't put your name in any database or use it to contact you after sending the seeds. Note to teachers - if you are interested in larger quantities, please feel free to contact us as well
Edamame - Glycine max 
Pumpkin - Cucurbita pepo
Pea - Pisum sativum
Lettuce - Lactuca sativa
Carrot - Daucus carota
Cucumber - Cucumis sativus
Create a home or school garden with the Junior Master Gardeners program!
Have a suggestion for an activity or site that should be included here?  Send feedback to Susan Chapman at ASA.